These photos were taken in May of 2004 on Lake Havasu. Took my son, who was 13, and my father along and John met us in town and showed us where to launch. A bit later he launched as well with a friend of his, and we followed them south for a few miles.
On the way back, we came across a jet-boater who was stranded. I had the more powerful boat, but no rope and I was a rookie driver at the time, so John came to their rescue and towed them about 1 1/2 miles back to the marina. They were not the most pleasant or the most appreciative folks, in fact they mostly just argued among themselves.
That was the first and the last time that I ever saw John Larson. We had had a few phone conversations, but that was the only day we actually spent on the same lake together.
This forum and the folks on it have my permission to reproduce, re-post or otherwise use these photos in any way that they deem worthy of the memory of 6x6. Enjoy~
Mods, feel free to merge this post with the "Pics of John Larson" thread if you think it would fit better there.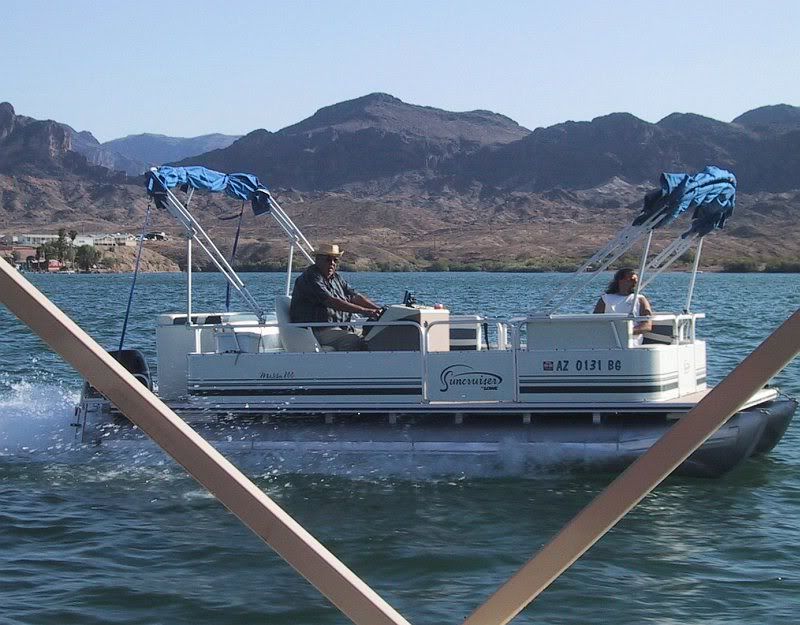 Hehe, I just realized that these photos were taken before John did one of his more recognizable modifications to his pontoon boat: the addition of a bus rear-view mirror on the side of the helm console. That sucker was about 2+ feet tall.